Related Pages
Services
CUSTOM WOOD WINDOW WELL
Unlike any other company in the area, Foundation Builders, LLC is able to offer custom wood window well designs to fit any space and gives us the ability to install a larger window – up to 8 feet wide! This allows us to transform your basement into a livabel space, full of natural light and the added safety of an egress compliant window with a unique wood window well design unlike anything you can get anywhere else.
We have three wood window well design options to choose from. Each design comes in multiple sizes and can be modified to meet your specific needs. Custom wood window well designs are also available. See more information below to determine which design would best fit your needs.
Option 1 – 45° Step Stairwell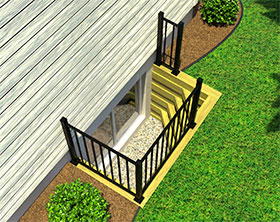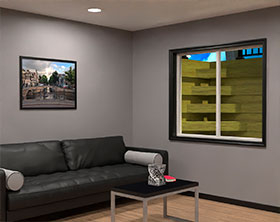 Great for narrow side yards
Great combination of space, savings, and sunlight
Option 2 – Paver Step Stairwell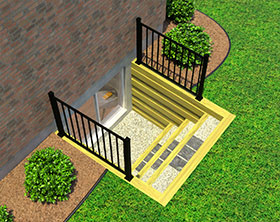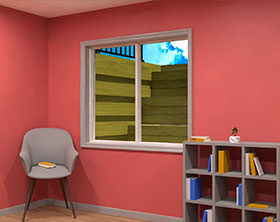 Allows for large objects to be moved into the basement with ease
Supplies a solid surface up to grade level
Option 3 – Terraced Stairwell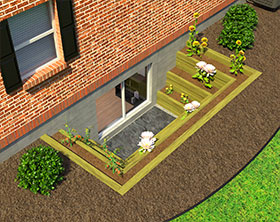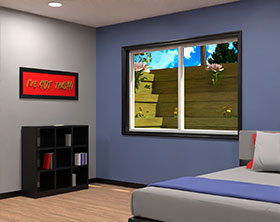 Built in planting space for food or decoration
Allows for large objects to be moved into basement
"Mike was very responsive and on time for all meetings / work performed. Completed job when he said it would be completed. Great installation. Took very good care not to cause any damage or mess inside. He's got a unique, very effective system to cut foundation and install egress windows without a drop of water or dirt inside the basement. We are very satisfied with the job and the windows made a HUGE difference in light and feel in our basement. He also installed drainage from downspouts to edge of property while he was digging and that was great too! I highly recommend Mike Hancock and Foundation Builders, for any work you need."
Keith Chasse - Mason, OH
Egress Windows (2) - March 2017
"Foundation Builders responded quickly and kept in constant communication throughout the job. They not only met my expectations but helped me to meet the needs of my tenants. My tenant was equally pleased with the work as well. Mike installed a basement egress escape window on budget and ahead of schedule. Mike and his crew were very professional and kept me updated throughout the whole project. I especially appreciated that Foundation Builders honors Military Veterans. I do have to mention that the job from proposal to completion was ahead of schedule and at the agreed upon price. Great job!"
Ken Pagano - Dayton, OH
Egress Window - November 2016