Services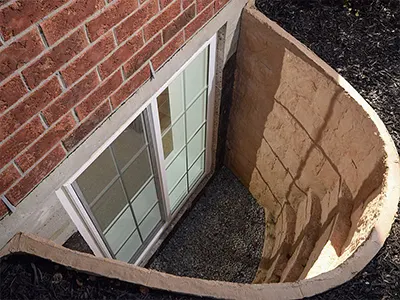 Welcome to Foundation Builders LLC, a leading company in Basement Egress solutions. As pioneers in the industry, we specialize in various services, including Basement Egress Windows, Window Well Options, Outside Basement Entry, and Portable Conveyor Rentals. With an unwavering commitment to quality, reliability, and professionalism, we deliver top-notch solutions tailored to your needs. When you need to upgrade your Batavia, Ohio' home's basement windows for safety and compliance or require efficient and safe portable conveyor rentals for your project, we will ensure a seamless and successful experience. We aim to exceed your expectations, and our unparalleled expertise makes us your go-to partner for all your basement egress needs. Wherever you need new basement windows installed or existing ones upgraded, we can help with the best solutions. We offer cost-effective installations backed by guarantees and can meet all your big and small basement egress and window well options.



Basement Egress Windows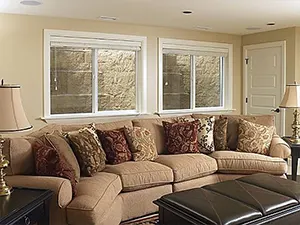 We provide exceptional basement egress window design and installation services. We understand the critical importance of creating a safe and compliant basement space, and our team of experts provides top-quality solutions that meet your unique requirements. We design these installations meticulously to enhance your basement's aesthetic appeal and ensure your occupants' safety and well-being. Our team adheres to the highest craftsmanship standards and utilizes premium materials to deliver visually appealing, durable, and long-lasting windows. We also perform the installation process with utmost precision and attention to detail, guaranteeing a seamless fit and optimal performance. With our basement egress windows, you can enjoy enhanced natural light, improved ventilation, and the peace of mind that comes with complying with building codes and regulations. Our company can help with single egress windows or comprehensive egress window systems. The team is here to guide you through the entire process and ensure a hassle-free experience. Read More About Basement Egress Windows »



Basement Egress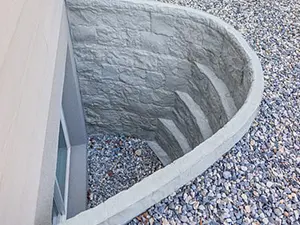 Basement Egress enhances the safety and functionality of your basement by providing a secondary emergency exit, ensuring compliance with building codes and regulations. Additionally, these windows allow ample natural light and fresh air to flood your basement, transforming it into a bright and inviting space. We are the basement egress experts, and our designers meticulously assess your property's layout and specific needs to create a tailored egress solution. From design to installation, we prioritize precision and craftsmanship, ensuring a seamless fit and optimal performance. With our commitment to quality and reliability, you can rest assured that your project is in the hands of experts who prioritize safety and customer satisfaction. Choose us and unlock your basement's full potential while ensuring your loved one's safety and comfort. Our team is ready to guide you through the process, making it a stress-free and rewarding experience from start to finish. Read More About Basement Egress »



Window Well Options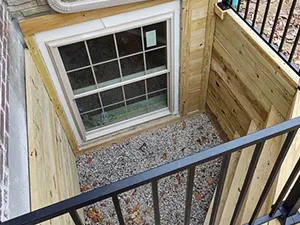 We offer a comprehensive range of Window Well Options to suit your unique needs and preferences. Whether you prefer standard designs or have a specific vision in mind, our team is well-equipped to deliver top-quality solutions that enhance the safety and aesthetics of your basement. Our standard window wells are carefully curated to meet industry standards while providing efficient functionality and durability. They are available in various sizes and materials, offering flexibility and ease of installation. Our custom Window Wells are perfect for those seeking a more personalized touch. Our team works closely with you to understand your requirements and design preferences, creating tailor-made solutions that perfectly complement your basement's layout and style. Regardless of your option, we assure you of a perfect installation. Our team of experts undergoes rigorous training and has extensive experience in window well installation. With an unwavering focus on precision and craftsmanship, we ensure a seamless fit and optimal performance for every project. Read More About Window Well Options »



Outside Basement Entry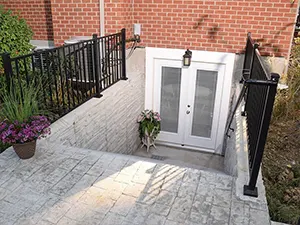 We provide exceptional outside basement entry solutions to transform your basement into a functional and accessible space. If you envision a private entry for a basement office, bedroom, workshop, or studio, our team of experts is ready to turn your dreams into reality. Our team is well-versed in designing and installing custom outside basement entries that cater to your needs and preferences. We work closely with you from concept to completion to ensure every detail aligns with your vision. Rest assured that all our outside basement entries are built to code, complying with all safety and building regulations. We prioritize safety and craftsmanship, delivering solutions that stand the test of time. With over 45 years of experience in the industry, our team brings unparalleled expertise to every project. We can elevate your basement space with our expertly crafted entries, providing convenience, privacy, and functionality to enhance your daily living. Read More About Outside Basement Entry »



Portable Conveyor Rentals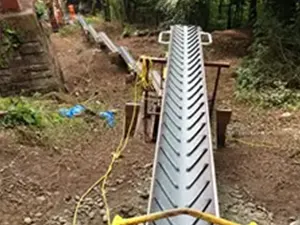 We offer top-quality portable conveyor belt rentals that cater to diverse construction and renovation needs. Our conveyors are the perfect solution for tight spaces and facilitate the efficient movement of various materials on job sites. Our conveyor belts are thoughtfully designed to meet the demands of construction and renovation projects. They are versatile, allowing seamless transportation of gravel, soil, concrete, and more materials. When you are working on a small-scale renovation or a large construction site, our conveyors deliver reliable performance, enhancing productivity and streamlining operations. These affordable rentals ensure access to the necessary equipment without breaking the bank. We understand the importance of cost-effective solutions without compromising on quality and reliability. Our team gives you the right conveyor for your specific project requirements and all the support you need for smooth operation. Choose us for your portable conveyor belt rentals and experience the convenience and efficiency of our reliable and affordable solutions on your construction and renovation sites. Read More About Portable Conveyor Rentals »


Our commitment to customer satisfaction is reflected in our helpful and knowledgeable team. We are here to cater to your specific needs, ensuring that you receive tailored solutions that align with your vision and requirements. From selecting suitable window options to executing a flawless installation, we guide you every step of the way. In addition to our basement window expertise, we offer a range of well options, ensuring that your basement is equipped with the best solutions for safety and natural light. If you require portable conveyor belt rentals for your construction or renovation projects, our reliable and affordable rentals are at your disposal. For further information about our services, including basement window installations and conveyor belt rentals, don't hesitate to contact Foundation Builders LLC at 513-753-6699. Alternatively, you can use our convenient Contact Us form to email us. We will call you back soon to discuss your requirements and provide perfect solutions.