Portable Conveyor Rentals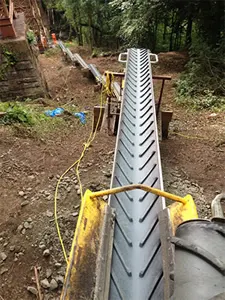 Foundation Builders, LLC is proud to offer Portable Conveyor Rentals and Services. Our conveyors can be used to move dirt, gravel, and other materials in and out of tight areas where other machinery would not fit. Our conveyors not only allow you to get into a tight area, but also ensure you complete your job in a much shorter amount of time by allowing you to work continuously with low impact. The conveyors can be configured to work through any area. Using the conveyor system allows you to work in many conditions that would typically be impossible to navigate, such as wet conditions, through the mud, and on steep hills. The use of conveyors also allows you to save a yard from unnecessary damage. The use of our conveyor system saves time, money, and frustration whether you rent and use them yourself or allow us to complete the job for you.





Our conveyors can benefit you in many ways: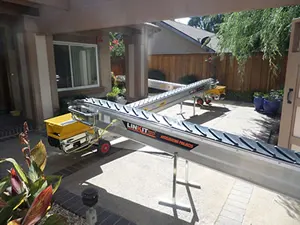 Provides access to areas where larger machinery cannot fit
Allows large amounts of materials to be moved in a short amount of time
Allows you to save time and money by being more efficient.
Allows for a variety of configurations to meet the needs of any space

Foundation Builders, LLC offers daily, weekly, and monthly rental rates and can also provide labor service, within 75 miles. For more information on our full-service conveyor options, rental pricing information and scheduling, contact us at 513-753-6699.