Related Pages
Services
Why choose Us?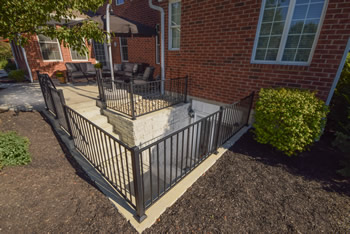 Adding a basement entry door is a job for experienced professionals. It is a complex process that involves cutting through your foundation, excavating, pouring and forming concrete, and complete door installation.
When adding a basement entry, home improvement guru, Bob Vila, says, "Be sure to select a qualified foundation contractor." You can ease any worries knowing that we are the most qualified in the area in code compliant outside basement entry installations!
Foundation Builders offers:
In-depth understanding of foundations
Experience installing basement entry doors
Decades of experience in home building and general contracting
Expert knowledge of building codes
Detailed drawings
Unbeatable customer service
We make your entry door project seamless and hassle-free. We do it all:
Design your new basement entry
Notify utilities to mark location of lines on your property
Provide complete architectural drawings and information needed for permits
Install new, energy-efficient door and exterior trim, as well as hand railing/guard railing required by code
Remove old concrete
Ensure structural integrity of foundation wall
Pour concrete steps
Build retaining walls
Grade exterior for proper drainage
Leave your job site clean
Excellent Service and Results! Mike and his crew put in a basement walk out on our level lot. It was such a breath of fresh air to work with someone who exudes good old fashion professional ethics; as well as a strong work ethic based on pride in the quality of your work. Honesty, ethics, safe and professional results were what we were hoping for and exactly what we received.
Phyllis Huseman - Harrison, OH
Outside Entry - December 2016
Very good results so far with no issues.
Girish Jagannath - Mason, OH
Outside Entry - March 2017