Related Pages
Services
Outside Basement Entries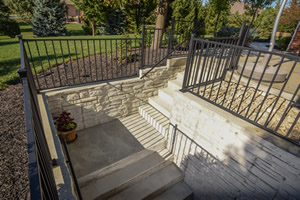 Installing an outside basement entry can be one of the most contributive and practical updates to make in creating a basement that is inviting, efficient, and aesthetically pleasing. The benefits are endless! Aside from providing additional access to your home and taking advantage of extra space, your basement will be a safe, habitable environment for you and your family. Natural light will be pouring into your basement living area, and the convenience that the entryway to your backyard will provide can be life changing.
Foundation Builders LLC is your solution!
We have over 45 years of experience in the home building industry, have built over 690 homes and hundreds of windows; with a laser focus on basement entry installations. 
We are the experts on the installation of egress compliant basement entries!
The benefits of installing a basement door
Design a private entry for your basement workshop, office, bedroom, or studio.
Add easy access to your basement.
Create a mud room or pet entry.
Bring in more natural light and fresh air.
Make it easier to move furniture or appliances into your basement.
Ensure a safe escape route in case of fire. (Building codes require all habitable space in the basement to have an exterior door or Egress compliant window.)
Add value to your biggest investment: Your Home
Spoke with Mike the owner via phone about his services in January, Met with him in person shortly after for site assessment and estimate. We decided to hire Foundation Builders since he had previous experience with installing walkouts and there do not appear to be many contractors who do this on a regular basis. Work was started in April and took approx. 4 weeks to complete. Our biggest concern with installing the walkout was potential for drainage/flooding problems in our basement to develop. Foundation Builders did a thorough job of installing drainage appropriate for our site and basement. So far, no overflow or flooding problems from the drain. Door was installed with attention to "getting it right". Mike the owner is very hands on with his installations even though he is in the senior citizen category! He wants the job done right and doesn't leave the details to chance. This is not a cheap project nor is it a project for an amateur. The walkout was installed well and is also attractive. Be forewarned with any large project like this there will be some upheaval of the landscaping in the project area but this is unavoidable. Our lawn was protected leading from street to construction area. You will need to re-landscape around the actual construction site which would be an added expense unless you are a DIY devotee.
Jane Simon - Union, KY
Outside Entry - May 2017