Related Pages
Services
Basement Egress Window
Installation Planning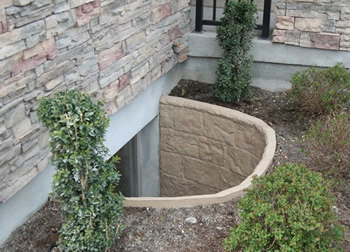 Thoughtful planning makes for a precise installation. We take a thorough look at your potential basement egress window space during the Free Site Consultation and discuss your ideas.

During your free site consultation, we look at:
Work site access routes
Location of utility meters, air conditioning equipment, fences and gates
Possible drainage routes
Location of property lines
Basement ceiling height
Places to dispose of the excavated dirt from the window well
The header above the window
We measure based on IRC Building Codes:
Size and placement of the egress window on your basement wall
Location of the window well
Clearances from utility meters
Clearances from all buried utility lines
Obstructions that may affect the window and well installation
Overhead clearance (when under a deck)
We mark the location of the new window with spray paint on the ground.

We explain the type of window that is best suited for your installation:
Select a window that slides open, or a casement style that swings in. Double-hung windows can be installed if space allows.
We use high-quality window products from Pella Window and Redi-Exit.
We make sure your new window meets the requirements of all IRC Building codes in Cincinnati and Northern Kentucky.

Choosing the window well:
The window well will be your "view" from inside of your basement. A nice-looking well that meets the IRC requirements is a worthwhile investment.
Foundation Builders uses durable, egress compliant, composite wells from Rockwell Inc. that provide a sturdy, textured surface resembling rock with a built in ladder.
If the RockWell well cannot be use due to lack of space, other well options include powder coated corrugated metal or wood.
Once the planning is complete, it is time for installation! Start planning your basement egress window project with us today, give us a call 513 753-6699 or click here to schedule your Free Site Consultation.
"Although there was a small issue with the window being sealed, they were quick to return on 2 different occasions until they got it right. They have called to follow up in order to be sure we were satisfied, which we are. They do quality work at a reasonable price and they stand behind their work 100% with no questions asked. Would definitely use them again."
Steve Seibert - Hebron, KY
Egress Window - April 2017
"It was a pleasure working with Foundation Builders. They were very professional and we are very satisfied with the work they did for us (installed egress window and window well). They thoroughly cleaned-up behind themselves so well that you couldn't even tell they had been there."
Dave & Kimberly Finke - Hamilton, OH
Egress Window - December 2016